What if you could work with your favorite brands, taking part in campaigns that allowed you to build a community while earning an income?
If you think you're too small or not interesting enough to be considered an influencer, I'm here to give you a new outlook.
In fact, I'm here to show you step-by-step how to turn your blog into a brand that travel and lifestyle companies *can't wait* to work with. Plus, we'll pull back the curtain on the mysteries of working with brands, from what brands are *really* looking for (hint: it's not always numbers) and common red flags that scare brands off (so you can avoid them!).
Hey, stop shaking that skeptical head of yours and instead raise your hand if you've ever felt:
Unsure of what working with brands entails. Will I have to say things I don't mean? Do I need 100,000 unique visitors per month first? Is it important that I have a closet full of maxi dresses and a list of unrealistic locations to wear them in? By the way, no to all of the above ;)

Clueless about how to land these partnerships. It seems like everyone else in your niche is getting "found," while you're hearing crickets in your inbox. Is it too late to really get noticed?

Confused about the whole "community" thing. Sure, you know how to publish a blog post; but have no idea what that secret sauce is to getting readers coming back.

Unsure about how to actually generate an income from your blog. You're willing to put in the work, you just need someone to hold your hand and show you what that work exactly is (without any additional time-wasting tasks, please!).

Frustrated by conflicting information. Am I supposed to pitch brands? Do I wait for them to come to me? How long do I need to accept free swag before I'm actually earning an income?

Like you're too small to attract the attention of brands. While you'd love to grow a community with hundreds of thousands of monthly readers, you're nowhere near there yet. Sometimes, you wonder if it's best to just quit while you're ahead.

Hand up? Good. You're in the right place.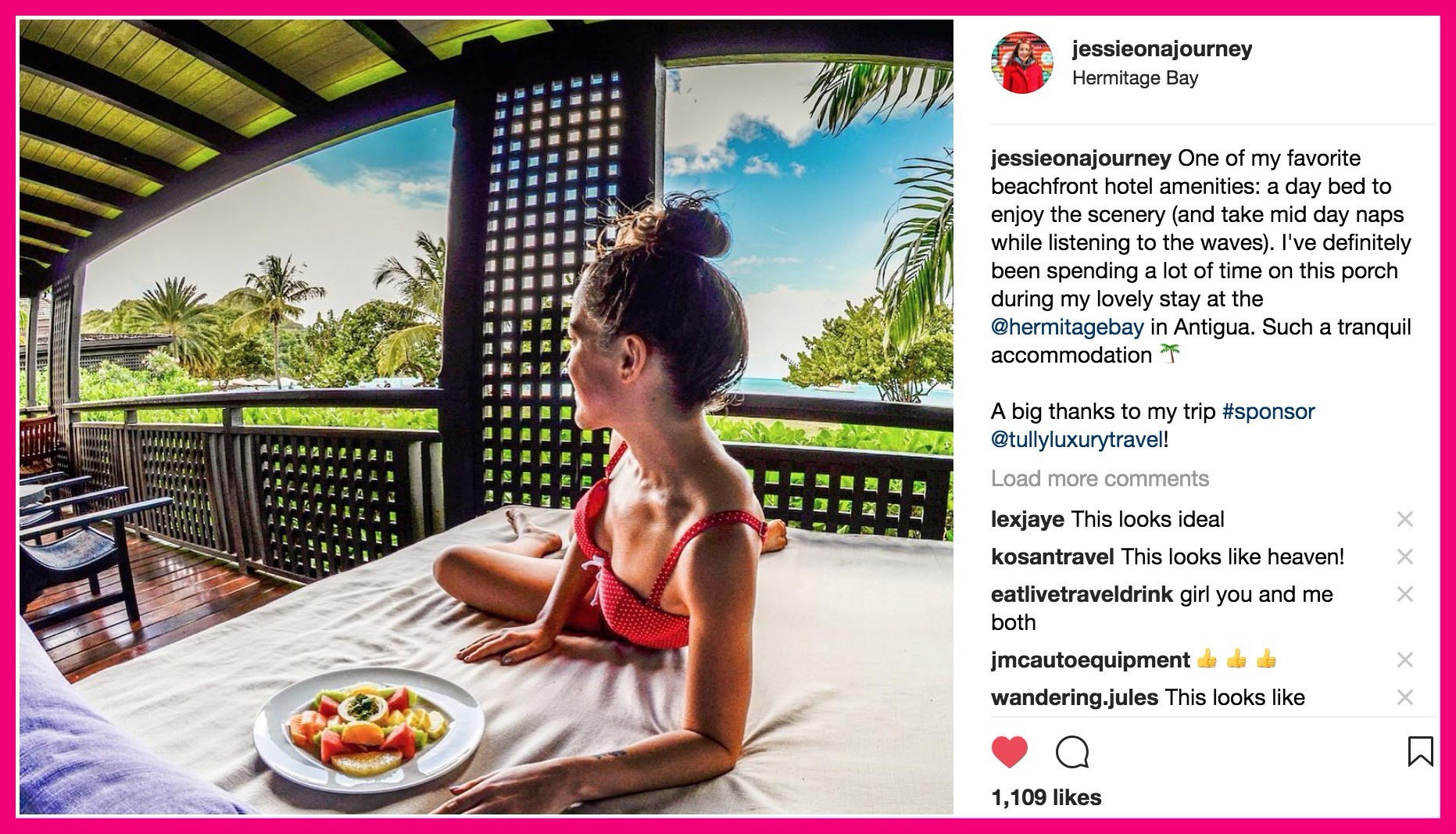 I'm here to show you -- yes, you -- how you can create a blog that gets noticed by brands (even if you have a small audience). In fact, I'll show you how some of my favorite bloggers were able to land paying partnerships with less than 8,000 pageview per month (some with less than 1,000!).
Sure, there are thousands of lifestyle influencers out there already rocking brand partnerships.
But, that doesn't mean there isn't room for you. In fact, 30% of consumers say they are more likely to buy a product recommended by a non-celebrity blogger vs a traditional celebrity, meaning that attention that once went to the likes of Kim K and Jennifer Aniston are now going to you.
Influencer marketing is a growing opportunity, and it's a smart (and fun!) way to earn an income through your blog.
Let me take you back to a second to before I was working with brands.
Sure, I'd get offers for free passport protectors and sunglasses, sometimes a nice backpack, but the amount of work I had to do for these partners without compensation was frustrating.
More than that, it wasn't fair.
Are all the big-name bloggers really doing all of these brand collaborations and press trips unpaid? There's got to be a better way, or I'm going to burn out really fast.
That's when I started working on my pitching strategy. I tested and tweaked, learning how to position myself as an expert in my niche, get found by brands, pitch irresistible partnerships and rock collaborations so that brands were happy to hand me a paycheck (and work with me again!).
In this course, I'll show you the exact system I use to land paying brand partnerships.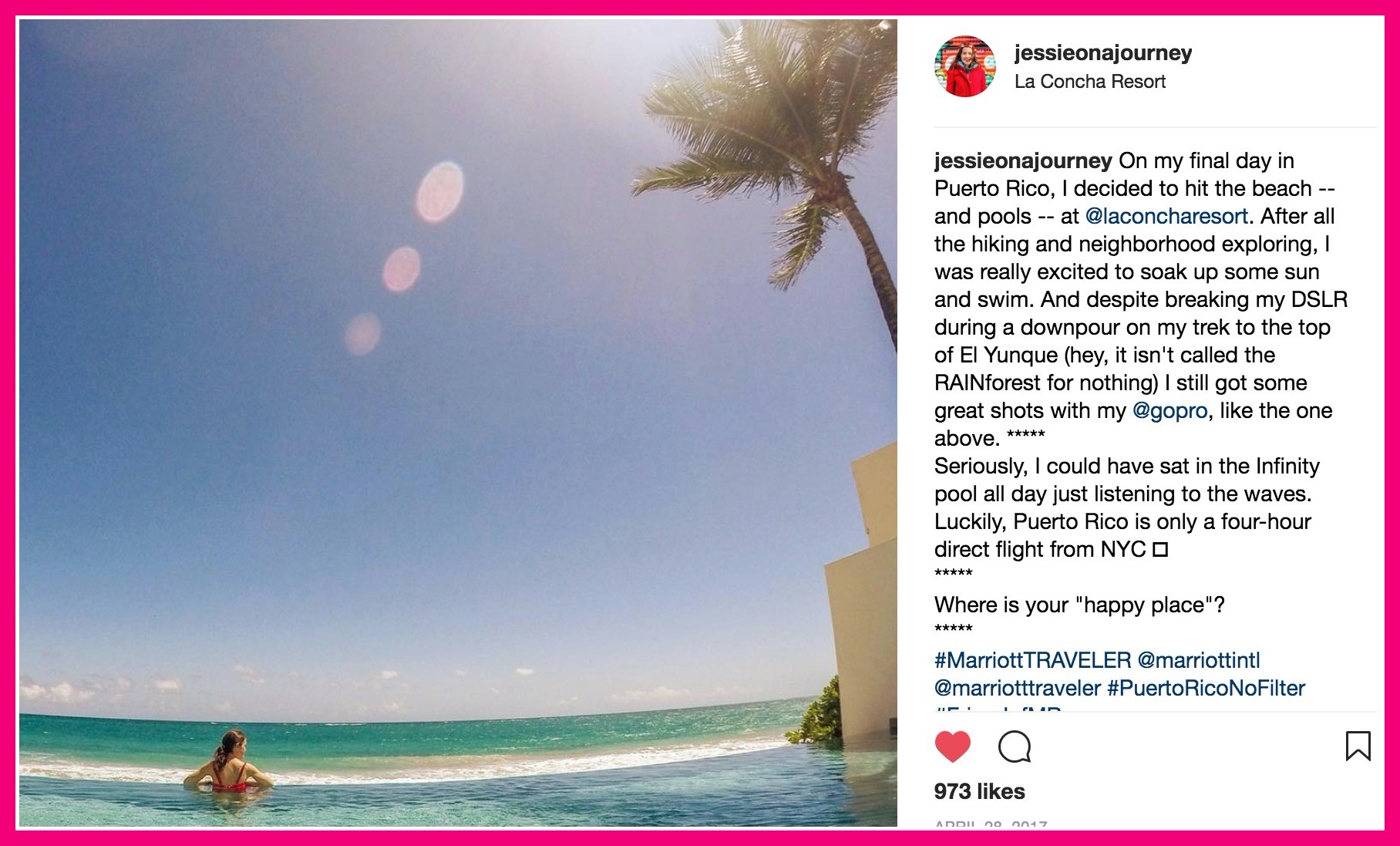 Just imagine a life where…

Your voice is heard. By a community of people who truly value your stories and opinions.

Brands pitch YOU on a regular basis. No more spending hours crafting pitches and not knowing if they even get read. I'll show you how to turn your blog into a brand-attracting machine (and how to turn press releases and freebie offers into paying gigs).

You know *exactly* what to say to brands to capture their attention. And hey, when you want to pitch, you'll know exactly what to say and who to contact (pitch email templates and telephone scripts included!).

You get paid to be creative, be your own boss and travel. Because hey, you didn't get into travel blogging to be stressed out and unhappy, right? Let's trade pounding the desk in frustration for leaving the desk behind to tackle your bucket list, kay?

Here's what you'll learn in How To Work With Brands (& Make Money):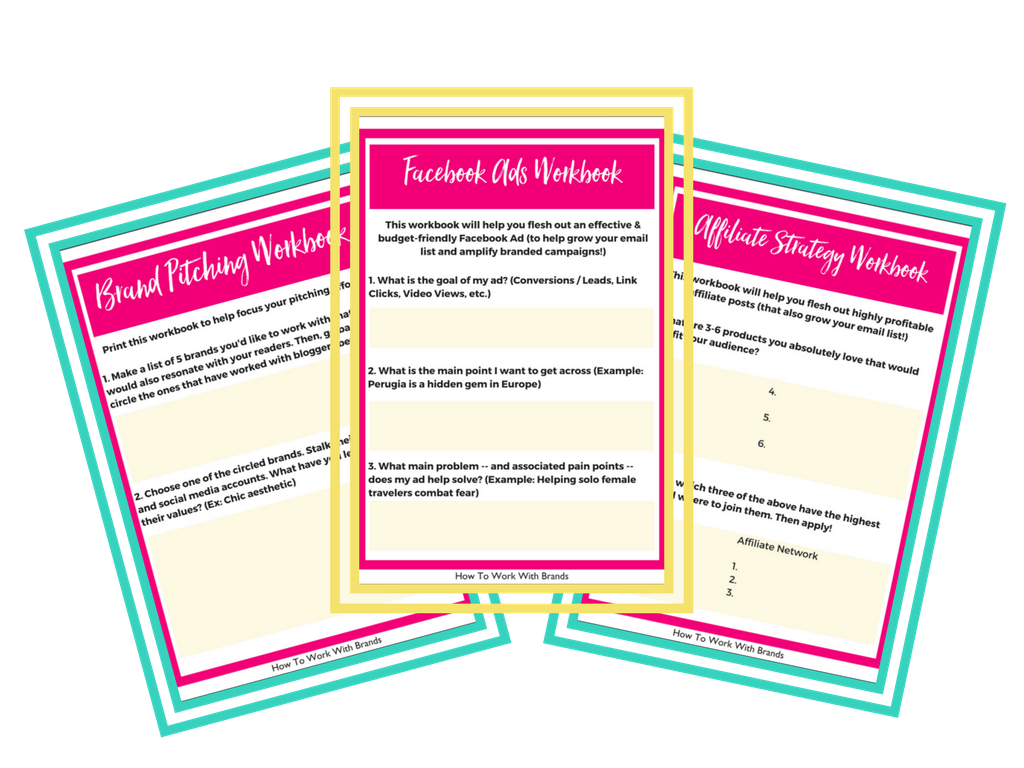 Module 1: Creating A Blog Brands Can't Wait To Work With. In this module, we'll tweak your brand to make it more attractive to brands (and, as an added bonus, better able to attract a community).
Module 2: The Important Pages You Need On Your Blog. Before you can begin pitching brands you need to have a few important pages in place on your blog. Here, we'll set those up together.
Module 3: Types Of Brand Partnerships. So you've seen a few sponsored Instagram shares by your peers and understand bloggers sometimes go on press trips. Let's dive deeper and look at exactly how you can authentically work with brands.
Module 4: Working With Brands As A (Profitable) Affiliate. In this module, I'll share my exact strategy for crafting affiliate posts so that they actually generate income (continuously, on autopilot).
Module 5: Getting Found By Brands. You don't always have to do the pitching when it comes to working with brands. Let's look at how you can make your blog more "searchable" to get found for branded partnerships.
Module 6: How To Pitch Brands. Then there are times when you'll want to take the reigns and be proactive about your partnerships. Swipe my templates for successful pitching, while also learning about pitching pitfalls to avoid.
Module 7: How To Land A (Paying) Press Trip. Being hosted by a tourism board or brand on a press trip is an incredible opportunity to introduce your community to a new destination. Best of all, I'll show you how you can earn an income on these trips.
Module 8: To Charge, Or Not To Charge. There's a lot of free swag floating around in the travel industry for bloggers; but the reality is complementary goods *don't* pay your rent (or allow you to run a profitable business). We'll look at when it's appropriate to charge vs when accepting a freebie is beneficial.
Module 9: How To Impress Brands (& Pitch Long-Term Partnerships). Let's get rid of that one-and-done mindset. This isn't about taking the cash and running; it's about creating lasting relationships that lead to more work down the line. Here, I'll show you how.
Module 10: Using Budget-Friendly Facebook Ads To Amplify A Campaign. Looking for a simple, inexpensive way to get more eyes on your content (branded or otherwise)? I'll pull back the curtain and show you how to run a campaign for $5/day.
Case Studies: This section is where you'll find interviews with bloggers discussing their strategies for success when working with brands (yes, there are even case studies from bloggers with low pageviews). You'll also find interviews with PR reps sharing insider knowledge on how bloggers/influencers can make themselves more attractive to brands.
And did I mention there are bonuses?!
Sign up for How To Work With Brands (& Make Money) and you'll also receive:
Instant access to my Ditch The Daily Grind: How To Turn Your Blog Into A Profitable Business course (a $199 value!). In this course, you'll learn a step-by-step strategy for growing a community around your brand and turning your readers into happy customers (because we'll also go over creating your first product with ease!).
24/7 support. If you need help, you've got support via Facebook, in-course forums and direct email to Jessie, your course instructor.